Come now and enjoy the joy of Biking!
Journey of 100 miles begins with a single pedal!
Team Asha Biking program registration closes on April 19th 2018. Hurry up!
All registrants receive Asha biking jersey (worth $50) and a bike bottle (worth $10)
Registration Fee - 100$

REGISTER NOW!
TEAM ASHA TRAINING PROGRAM
---
Team Asha is a premier endurance sports training program. It provides personalized coaching, motivation and support for individuals with a goal to run a half/full marathon or bike 100 km/100 miles or to do a triathlon. Since year 2000, Team Asha has helped hundreds of people realize their marathon and endurance biking aspirations.
WHY BIKE?
---
Biking is a great, impact free sport that lends itself to fun group rides and allows you to enjoy the amazing views Bay Area has to offer!
Whether you are a runner looking for new challenges, a triathlete in the making, or an athlete recovering from injuries, biking is for you!
WHY TEAM ASHA?
---
With over 8 years of experience, our team has intimate knowledge of all Bay Area roads and trails and we have successfully mentored bikers with widely varying skill levels through our structured training program.
OUR PROMISE TO YOU – our team of amazing coaches and captains will help you reach your target – irrespective of whether you are a commute biker seeking a new challenge or an experienced one hoping to learn new skills and improve your endurance.
From helping you pick a bike that fits you, training you, to supporting you on your target ride, we will be there all the way.
Relive the 2017 Giro Bello Metric Century Route last year through this link.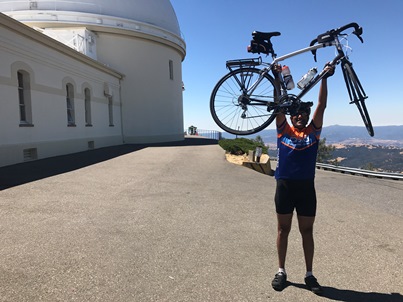 ---
CHALLENGE YOUR LIMITS!
---
Build your endurance seemlessly to bike long distances through our structured training program, that gently takes you from flat trails to new heights! Ride 100 km at Giro Bello, Santa Rosa and V3Hopfest in San Ramon.
---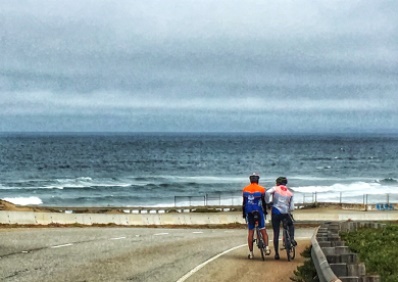 ---
RIDE SCENIC ROUTES!
---
The Bay Area offers some of the most scenic riding destinations in the country. Whether it be the sun-kissed hills of the East Bay, the redwood shaded climbs of the Santa Cruz range, the stunning coastal rides in Marin and Hwy 1, there is no better way to see them than on a bike.
---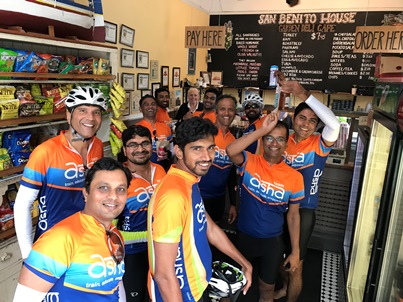 ---
HAVE FUN ALONG THE WAY!
---
With experienced coaches and captains guiding and supporting you through the entire season, food / gear stops along the way, wonderful like-minded athletes for company, all you need to do is just pedal towards your goal!
Along the way, we also organize these for our RIDERs: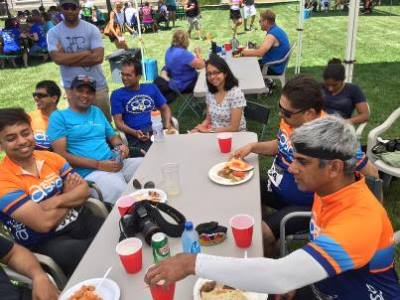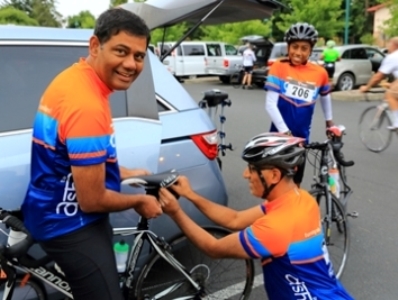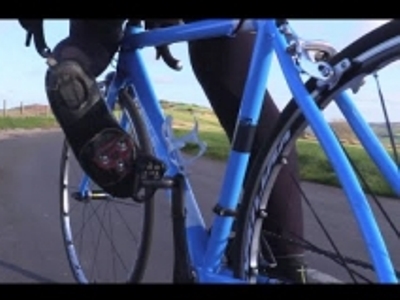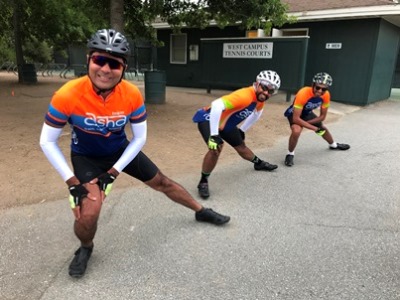 Stretching and Yoga Sessions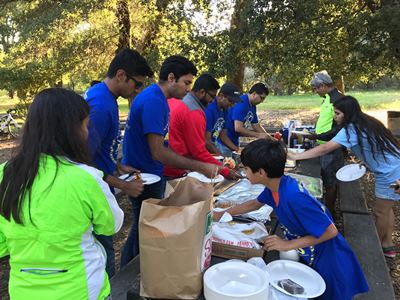 Carbo-loading party before target ride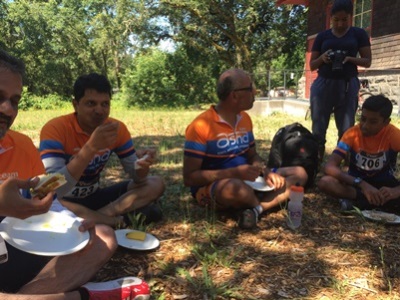 Support and Gear Team for training rides
Open bike ride – April 8th and 15th!
No registrations required! Come talk to the coaches and coords to learn more about the program. Join us for a short ride with friends and family.
Ride #1 – Ride de Cañada
When? April 8th (Sun), 10 AM
Where? Cañada Road, Redwood City, CA
Mileage? ~ 11 miles
Ride #2
When? April 15th (Sun), 8:45 AM
Where? Karl Nordvik Park, Fremont
Mileage? ~ 15.5 miles Route Map
Share on Facebook
Not registered? RSVP Here
Pics from Ride de Cañada 2018

Pics from Ride de Cañada 2018
If you are worried about committing to the program, we invite you to the
first two rides
which are open to all without a need for enrollment or a commitment to fundraise.
By 4th weekend ride, you would be required to 'recommit' to our program: a commitment to finish your fundraising target as per our deadline.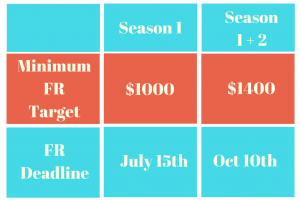 Fundraising Discount Policy:
Mentors/Captains: 40%
Family Biking Co-ord: 20%
Alumni:
– 15% for TA Alumni biker returning for their second year.
– 40% for TA Alumni biker returning for their third year.
– 50% for TA Alumni biker returning for their fourth year or beyond.
Referral Discounts: $100 per referral
All the money raised through this program gets distributed among 250+ NGOs that we work with across 24 states in India.
Donors like you help us ensure that kids don't just attend school and they actually learn.We support our project partners in India who have diverse education needs – it could be a supplementary school, school with special needs, vocational training classes or digital education.To give a brief idea of some of our projects:
To learn more about our projects and locations, please visit http://sv.ashanet.org/projects/.
Asha for Education is a 100% transparent and volunteer driven organization. Every single $ you raise is dispersed to our projects. All the coaches train athletes for no cost and in fact many of them fundraise just like any other athlete enrolled in our program.
In 2017, our Team Asha athletes raised ~300K. Asha for Education Silicon Valley chapter dispersed 477K to 20+ projects impacting the lives of 15,000 children in India. Check out our 2017 annual report here.
Start your fundraising early – this helps in reaching out to more people and raise way more than your minimum target.
Most of the profit companies in the Bay Area do company matching. All your donations can be doubled by applying for company match. Check here if your company has a donation matching program.
Every single hour you volunteer for ANY NGO can be used towards your fundraising through 'volunteer hour grants'.
Another great way to fundraise is to organize a lunch sale at your workplace or in your friends circle. You also get a chance to explain about various projects Asha supports. Read this article to see how a Alumni raised funds.
Lose your inhibitions – you are asking people to donate for a great cause. It's important to explain why you are training through Team Asha and how proud your donors should be because they are helping every child in leading a better life!
If you are artsy & crafty, this will be an amazing way to show your talent. You can ask people to donate towards your FR for every item you sell.
General donations to Asha for Education by the athlete in the same fiscal year can be accounted towards FR target. (donations to fundraising campaigns such as Work An Hour, Support A Child etc and events will not be considered).
Tips from our Asha alumni.
Be sure to attend our fundraising clinic to learn more!
This is a very valid concern that every new member of Team Asha has. We will help you with ideas, materials, fundraising clinics etc to help you with your fundraising. During every weekend training, your group captain will help you keep on track. Till date, more than 80% of our bikers have raised more than the minimum fundraising targets.

Team Asha mentors and other Asha volunteers will work with you throughout the program and beyond to help you honor your pledge of raising the target amount. Please see this program as a means of supporting and encouraging the underprivileged children and not simply a biking-training program. Without your fundraising efforts, it would be difficult for Asha to continue supporting these projects. We urge you to do your best to honor your commitment in helping these children. If in the end you still fail to reach the target then you are required to cover the balance by yourself.
Asha for Education is a 100% volunteer driven organization. Asha-SV has a
list
of projects we support every year. 100% of your donation goes towards the projects because our operating expenses will be covered by the registration fee you pay. If you want to donate to a particular project of your interest, please contact sv.projects@ashanet.org.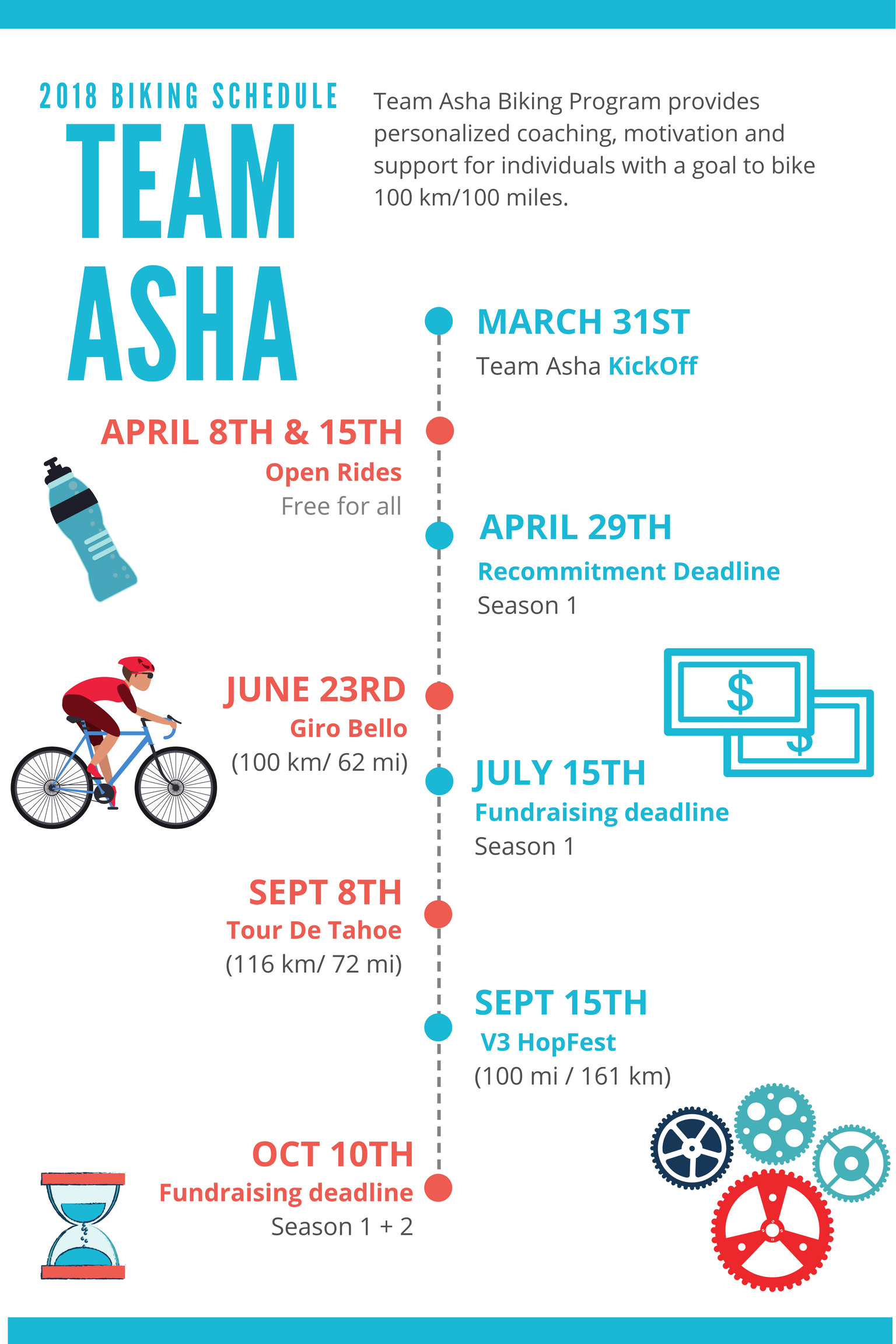 Our Team
Coaches
Coach Mani apparently has been riding since he was 7yrs old (just like the rest of us!) but took up serious biking since 2006 because he started riding to school & work on his bike. He along with other captains and coaches have inspired a lot of people in Team Asha to bike to work. Save gas, save money, stay fit and get your workout for the day done & dusted!
He has been with Team Asha since 2008. All the motivation led him to finish a lot of centuries, Death Ride, California Triple Crown and of course the most famous Paris-Brest-Paris 1200km bike ride. He has also successfully finished Vineman (140.6) triathlon. When you get to know him during the season, you will know how he bugs everyone around him to take up biking 🙂 Over the next few years, he wants to take up bike touring where you backpack on your bike – amazing, isn't it?
Popularly known as 'Venki', joined Team Asha in 2008 and started riding in 2011 after getting inspiration from his peers. He has been an important part of our core team because he believes in the hallmark of the program: A complete beginner can target and achieve what they might have thought is not possible.
During the last couple of years, he has completed some of the famous rides like STP (Seattle to Portland), Death Ride, San Francisco to San Diego.
Apart from riding and being an amazing coach, he has also participated in a bunch of marathons and triathlons. Being a cardio junkie, he loves to play tennis, badminton, ultimate frisbee, football! He also spent a summer coaching the local soccer team in the Bay Area. He is a great carnatic music singer! If you convince him enough, he might sing for you while you are riding 🙂
Jayant started biking in 2010 to keep himself healthy and joined Team Asha in 2011. He has done quite a bit of century rides and he is one of the coaches of our team. His longest ride so far is Seattle to Portland ride which is 206 miles in one day! He is right now training to do Death Ride which is 115 miles and 15,000 feet elevation gain! He is also starting to run and swim – so maybe a triathlete in the making?
Captains
Frequently Asked Questions
---
Training sessions include one weekday ride (~1.5 hours) and weekend ride (~1 to 5 hours) depending on mileage, elevation and pace.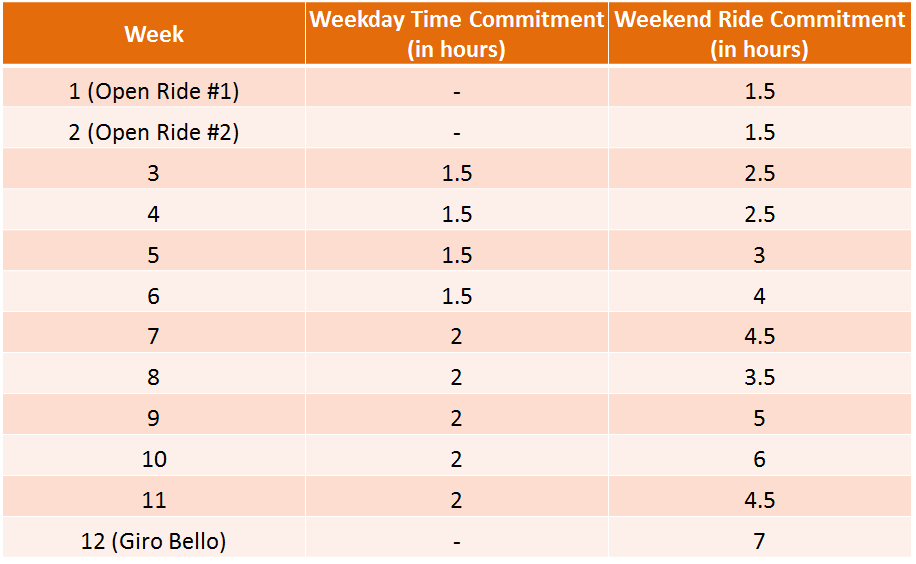 Apart from training sessions:
We encourage you to do your own ride/spinning class on weekday for about an hour.
Yoga and core strengthening workouts are highly recommended for atleast twice a week.
Yes,
Bagels and bananas
at the start, followed by a few rest stops powered by our amazing Support And Gear (SAG) team. We pamper you with yummy
home-made food and drinks
, thanks to our volunteers who make your training session so great! In case of any
injury
, our SAG car will help you in every step of the way. Our coordinators, captains and coaches are CPR certified.
SAG is usually done by Asha volunteers, family or friends of Asha bikers. If you / your family would like to help out, please fill this
form
.
We train all over the Bay Area – South Bay/East Bay/Peninsula/Hwy 1. We try to pick routes that are fun, safe and bike friendly. Where we ride also depends on the representation of riders in the group .
Questions?
We bike so they can read
2017 Year in Numbers