by Dr. Deepak Sekar
Since 1947, the beautiful region of Kashmir has been marred by war, chaos and militancy. This has unfortunately destroyed many innocent bystanders' lives.
Ulfat Nazir was three when her father was killed. She was one of four children. Her mother, who had only studied to sixth grade, was unable to provide for the family on her own. Ulfat and her siblings often went hungry. In Kashmir's patriarchal and conservative society, it is almost impossible for a woman alone to provide for her children. So a child who has lost her father is considered an orphan.
In some cases, when a father is killed, the mother remarries and gets out of poverty. That comes with its own complications for the child, however. If a widowed mother remarries, the children from the first marriage are often shunned by the new family. Razia Malik was 14 when her father was killed. "After my mother remarried, I would be sent from one relative to another," she says. "I could not concentrate on my studies. It was a difficult time in my life."
Many such stories abound. According to media reports, more than 215,000 children in Kashmir have been orphaned in the conflict.
Providing support for these children
Adhik Kadam, a social worker, saw this problem when he visited Kashmir 20 years back. He started the Borderless World Foundation to care for these orphaned children. Today, he runs 4 homes which house more than 200 kids in Kupwara, Jammu, Anantnag and Badgam. He and his team provide a home and schooling for the kids and help them develop careers. Since girls find it harder to get support and work in Kashmir's patriarchal society, the Borderless World Foundation specializes in providing for them. Asha, our non-profit organization, has been proud to partner with Adhik Kadam and the Borderless World Foundation for the past 15 years to support these kids as well.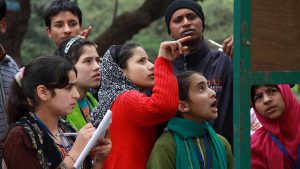 The results have been astounding. Kids have graduated with degrees, formed businesses and done well in examinations. At Asha, we regularly get reports of the children's academic records. They have been quite impressive. Not just that, the education provided to the children is well-rounded, with art, social work and life skills taught in good measure.  Chitra Mandyam, an Asha Silicon Valley volunteer, works with Adhik and his team to provide support for their projects. She says, "I visited the Borderless World Foundation facilities in Kashmir sometime back. It is amazing how these kids' lives have been transformed by Adhik and his team, using donations made by well-wishers in India and America." Check out the below video for feedback on the Borderless World Foundation from a General in the Indian army. You can hear from some of the kids at the homes.
You can help too
If you would like to donate and assist these kids impacted by the Kashmir conflict, there are several ways to do so.
Donate any amount of your choice towards food and education for these children – LINK
Support a child initiative – you can pay for food and education of 1 child in a Borderless World Foundation home. You and your family could get reports on the child's progress if you desire. It costs $365 a year ($1 a day). LINK
Provide funds for building and maintaining a new hostel for the kids – The Borderless World Foundation is constructing a hostel, which includes classroom facilities, for kids in the Jammu area. You can find architectural plans here. Construction has already started. The Borderless World Foundation would like to acknowledge sponsors who contribute more than $100 by mentioning their names on a donor board placed in the building. LINK You could even choose to fund construction of a classroom or a hostel room in your name if you choose to.